By Moses Nagamootoo Guyana chronicle November 11, 2017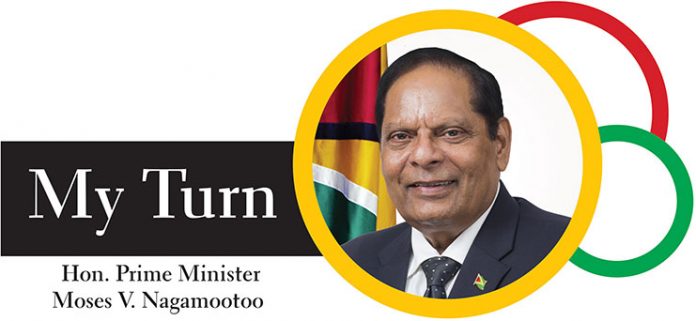 THROUGHOUT Guyana, students are graduating from high schools. Many will proceed to colleges and universities; some will enter the world of work; while others will seek vocational training, enter family businesses or wait for an opportunity to make an honest living.
For young people, life remains a challenge in Guyana as few jobs are floating around outside of state employment. It has been so over many years when it was once estimated that 40% of our youths were jobless or under-employed. But no credible statistics had existed. Statistics, it was cynically said, were a state secret.
NEW INTELLIGENTSIA
Today, our young, high school graduates give us hope that Guyana could mould a new generation of intelligentsia, and better train them as our new brain-gain. They are the ones who would be adaptable to the upcoming petroleum-based economy. Though there would be unimaginable space for the service and hospitality sectors, this industry would eventually grow an appetite for local technologists and engineers.
Schools are at the initial stage of gearing up for the oil boom. Even in rural areas, they have chalked up unprecedented passes in science-based subjects at the regional examinations. They too have determined not to be left behind in the scientific and technological revolution.
EDUCATION EMERGENCY
Upon assuming office, our coalition was confronted with declining passes in Mathematics; and Cabinet immediately directed that an inquiry be done. Almost a state of emergency was declared in the education sector, which resulted in the revamping of the Science, Technology, Engineering and Mathematics (STEM) programme, from the secondary school level. Our native language, English, was falling behind.
At the primary school level, President Granger rolled out his 5 Bs incentive initiative, under what has since become the Triple A policy – Access, Attendance and Achievements. To realise all three As, boats, buses, bicycles, books and boots were distributed to schools in various locations, initially in interior and riverain areas mostly populated by our indigenous peoples. The programme was funded voluntarily by civic-minded donors and corporate citizens. The state supplemented the humanitarian gesture by re-energising the pilot project of providing breakfast or a hot meal at many schools.
Our coalition, in just over 900 days, has charted a course to encourage excellence in public education. It is by no means a simple task to dismantle and re-build from the mediocrity that we have inherited from the post-Jagan era. We are still a long way from placing education as the gateway to Guyana's modern economy, when we could train our own corps of petroleum engineers, environmental scientists, agronomists, agro-processors, etc.
We met broken infrastructures, neglected students and under-paid and demoralised teachers. My wife and I, together, have served for some 50 years in the education sector and we share the plight of teachers. We understand the needs of students and, more importantly, we know that teaching is more than just a job; it is a labour of love and devotion.
COMPUTER DISTRIBUTION
While salaries remained an issue on the table, President Granger tried to reach out to teachers by diverting the once blotched computer distribution scheme to include them. It is appreciated that in order to lift education standards, no teacher should be left behind.
Access to computers is indispensable for comprehensive education.
So, during the graduation exercises at the Corentyne Comprehensive Secondary and the New Amsterdam Multilateral schools, the Government included a dozen laptop computers among the prizes presented to the top graduates.
Special prizes were donated by the President, my Office and the Minister of Public Telecommunications who is at the head of the information and communications drive, to provide internet connectivity to all schools in Guyana. The students were excited to greet Minister Catherine Hughes – young, smart and enthusiastic.
WAVE OF THE FUTURE
I was therefore disappointed that the opposition chose not to ride on this wave of the future, by attending the ceremonies and applauding the successful students. At both schools the PPP instead dropped off just over two dozen protestors in an attempt to disrupt the graduation ceremonies. The picketers were re-cycled from one school to the other. Oblivious to the tragedy of "deviding" our students, one of the picket-bearers carried Mr. Jagdeo's own favourite dunce picket as if to punctuate the assault on the schools with an attack on spelling.
The chant, again, was about rigging. I found it funny that Mr. Jagdeo should try to take this folly to Berbice, my own home county. Berbicians know too well how he engineered rigging of party elections to oust me from the PPP leadership; how he rigged the process for the selection of a presidential candidate for the 2011 elections; how he resisted a secret ballot after I had walked, to frustrate any chance that the eminently qualified Ralph Ramkarran could be the candidate.
Berbicians know only too well that it was Jagdeo's folly that caused the PPP to lose its majority in parliament in 2011 and that, coupled with "pervasive corruption," resulted in the PPP's defeat in the 2015 elections. "Rigging" therefore rings hollow in Berbice, which is why he resorted to a mobile picket, and the recycling of picketers.
LAST CARD
Many have since commented on his last political gambit as regards the appointment of the Chairman of the Guyana Elections Commission. But my final take is that he has become sour by his failure to rig the selection process. As I see it, the deadlock on the commission, is like high-risk poker. With three cards each from the PPP and the PNC, Jagdeo wanted his last card to be an ace, his ace, to be selected as chairman.
He could also have learned another deadly game — Russian Roulette, where five blanks and one live bullet are placed in the chamber of a gun. To win, the crazy player has to put the gun to his head, pull the trigger, and hope that he survived.
In the elections commission game, the opposition leader rigged the process. He gave President Granger a gun with five live bullets and one blank. Five out of six times, had President Granger not found the gun unacceptable, he would be dead – politically speaking.
So, there can be no merit in the use by Jagdeo of the appointment of a chairman in the manner that the President did, as a ruse to stir strife and ethnic hostility; or to unleash a domestic version of the PPP's obscene "feral blast" in Parliament or elsewhere.
In Berbice, we witnessed a sad, pathetic contrast. While our students were celebrating their academic achievements as a ticket to a better future, the PPP mounted a picket to mourn the inevitable loss of power, again. Rightly so, students, teachers and parents ignored the recycled picketers.