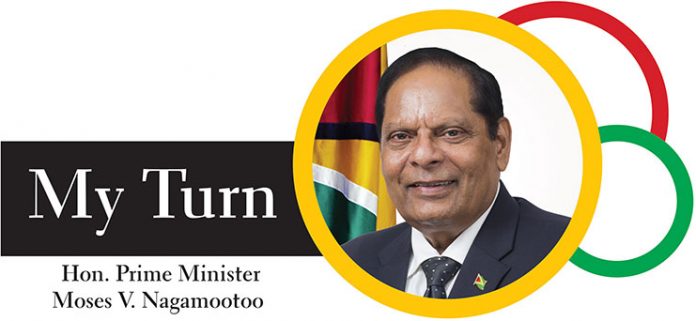 guyana chronicle November 5, 2017
ALMOST nearing mid-point in its first five-year term in office, the APNU+AFC coalition government has pulled Guyana from the abyss of an underground economy, pervasive corruption and political despair. The fight-back has created the contours of an orderly, law-governed and stable democracy that has given Guyana a fresh face among the world's democracies.
This year, therefore, the resumption of the National Assembly provided theatre for the coalition to showcase the story of Guyana coming back. It gave the President an opportunity to deliver to the Parliament a message of stability and success.
But Opposition Leader, Bharat Jagdeo, one-time president, also wanted centre-stage and, like the Phantom of the Opera, he came back to haunt the House as the President started his Address. What ensued was beyond reasonable expectation, and defied otherwise acceptable rational, political conduct.
DAY OF SHAME
November 2, 2017, was a day of shame in the history of Guyana's multi-party, parliamentary democracy. It also marked the beginning of cheap political drama for live coverage of parliamentary sittings. The premeditated, planned disruption of proceedings by deployment of the opposition benches to collectively but discordantly howl, croak and groan to drown out the address by the President was aimed not only to show disrespect for executive authority, but to deface and mock at symbols of our democracy.
But the Hansard would show that His Excellency, President Arthur Granger, delivered another powerful address to the Parliament. Granger, though provoked by the persistent dull drone of discordant voices, remained calm, composed, stately and confident, as a real leader ought to be. Expectedly, the howls became screams as the President mentioned Guyana's great prospects of producing oil and gas in commercial quantities, while simultaneously pursuing a green agenda.
FRESH MESSAGE OF HOPE
For Guyanese listening to their President, this was a fresh message of hope, even if it were being repeated for a millionth time. But for the Phantom and his gloomy choir, every promise was a poisoned dart that stuck in the heart of his seemingly unattainable dream of returning to power.
That dart dug deep as the President spoke about the prudent management of the economy, which shows consistent but moderate, above 3% growth. He explained how the working people benefited from this growth by receiving an increase in the minimum wage of 50% in just over two years – from $39,000 to $60,000 monthly. He reported that, at the same time, working people paid less in income taxes, and in taxes on goods and services with the reduction of the Jagdeo-imposed Value-Added Tax (VAT) to 14%.
In his wide-ranging presentation, President Granger told sugar workers that even though the Jagdeo regime had bankrupted their industry, the coalition government was able to pinch monies from wherever it could over the past months to give Guysuco $31 billion, so that workers could continue to receive wages and benefits.
SHAMELESS FACES
At that point, the Jagdeoites started to hide their shameless faces behind placards that they had smuggled into the chamber. It was then that the cameras picked up the dunce slogans, Jagdeo himself haplessly hoisting one that protested the "deviding" of our people.
The President indeed had a hard task to pitch his voice above the babble, but Guyanese have heard from him that the economy is in safe hands; that confidence in it has resulted in some 240 investment projects worth $187 billion being in the pipeline; and more Guyanese and tourists are visiting Guyana, etc.
Indeed, there was something of interest and value in that address for everyone which should be read and shared. Teachers received 9,000 laptops, and schools were hooked up to free internet access. Countrywide, we are seeing the emergence of solar energy systems, starting in the three new towns.
On Thursday last, David stood up stoically to the paper-placard Goliath and his horde. He ended on a high, optimistic note when he reminded us that we share a common home. "We yearn for a common destiny" and that e could apologise, and no more, to save his own proverbial skin from being flayed when his tgime comes to speak in the National Assembly.
"Guyana is a beautiful, blissful and bountiful country…" That was a class act.
DISRUPTIVE POLITICS
However, while the message of optimism would ring melodiously in our ears, we must be conscious that opposition disruptive politics would also, like a bugle sounding the last call, haunt us throughout the remainder of this first term. Jagdeo would try to provoke retaliation. He would hope to harvest, like Gogol's "Dead Souls," victims of imagined repression. He would wish for martyrs.
That scenario ought to be understood and, notwithstanding opposition frolics, the nation's business must go on, will go on. We must show that the pledge that our people made at independence to build a united nation, has not become a trifle in the obscene, opportunistic obsession of visionless political hustlers. The Guyanese people would not allow them to open the wounds of our colonial past and to plant their virus of distrust and division.
In my long association with the working of parliament, I witnessed during 1965 opposition MPs walking into the assembly with black sashes across their bodies with the slogan, "free the detainees." That was in protest against incarceration of PPP activists at Sibley Hall. Speaker Alleyne ordered them to leave the House.
Then while Sase Narain was Speaker for an unbroken 20 years, he banned Cheddi Jagan, then opposition leader, from speaking for displacing the mace, and dislodging the collection of law books on his desk. Then Opposition MP, Isahak Basir, was banned from the house when he threw a glass at Narain, which missed him.
LEGITIMATE PROTESTS
I was a member of the civil liberties group with E.M.G "Coco" Wilson, who at one time chained himself to the gate of the parliament; then, in chains, slashed his chest with a razor blade – all to protest against the then dreaded National Security Act.
Those were legitimate, isolated protests, in and around parliament. But except for one occasion when the then APNU+AFC opposition drowned out then Home Affairs Minister, Clement Rohee, after a no- confidence motion was passed against him, protests thereafter were confined to occasional PPP boycotts, walkouts and rigorous heckling.
I anticipate that disruption would become the midwife of the new political tactics under the nihilistic slogan; "All struggle; no unity." For Bharat Jagdeo, this is familiar terrain, as he could unemotionally cast aside togetherness and unity, like a fake or broken marriage. Using fears of elections-rigging as a political jumbie, he would sow political discord, ethnic insecurity and economic instability. It would be his way of "deviding" Guyana.
This is the essence of the campaign of non-cooperation and civil disobedience that was initiated by the post-Jagan, opposition PPP. At best, it is a desperate campaign of infantile disorder.
It is clear that Jagdeo and his MPs were in contempt in the face of parliament; that once the Speaker had hit his gavel, the continuation of the growl was a disobedience of his order. It may not be without merit that the Speaker would expect that Opposition MPs would purge themselves of their contempt before they could be heard on any issue at future sittings of the High Court of Parliament.
November 4, 2017