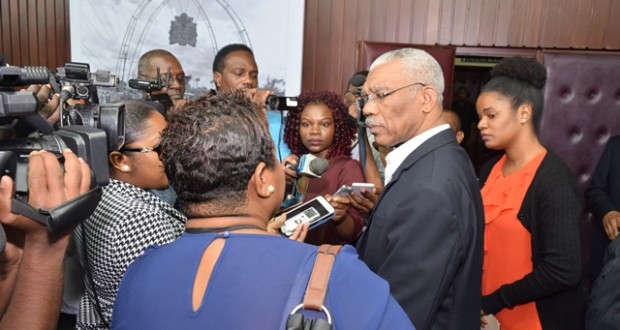 guyana chronicle
Minister of State, Joseph Harmon is expected to issue a  written statement Thursday following allegations that he acted in a corrupt manner by appointing controversial businessman, Brian 'BK' Tiwarie as his personal adviser on business.
This is according to President David Granger, who told reporters Wednesday that an "extra – ordinary" meeting of Cabinet was held Tuesday, where a "commitment" on the Harmon saga was made.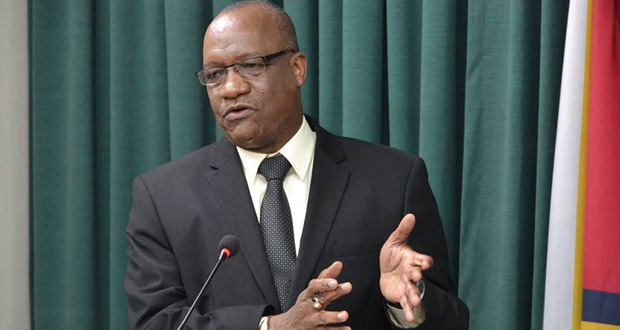 "It was not a statutory cabinet meeting. It was convened to discuss specific matters which had been deferred from previous Cabinet Meetings and so it was not a regular Cabinet meeting, as far as the matter concerning Mr. Harmon is concerned we have a commitment. He has prepared a statement which was delivered orally to Cabinet and that will be issue in writing [today]," the President said.
As a result of the allegations surrounding Harmon, the Alliance For Change (AFC), which forms part of the APNU+AFC coalition government issued a statement to the effect that Harmon has too many powers and responsibilities.
In addition to being Minister of State, Harmon is Cabinet Secretary, Head of the Presidential Secretariat and Secretary to the Defence Board. But President Granger has already stated his position on the matter, nothing that Harmon's responsibilities are not "burdensome."
Harmon has also been accused of intervening in the work of the Guyana Revenue Authority (GRA) by halting the seizure of two luxury vehicles belonging to Chinese company, Bai Shan Lin. The controversial Chinese company is being investigated by the State Assets Recovery Unity (SARU) and Harmon was recently pictured with the Company's Heads in a private jet during his trip to China.
But the President has since offered an explanation for this. "As you know the Ambassador of the People's Republic of China was in China at that time, he had to go to three or four different cities and the Ambassador arranged the executive transport because of the distance between the cities, and the amount of time he had at his disposal. So it was arranged by the Chinese Government to enable him to travel to different cities…to conduct the business that he was there to conduct."
The Minister of State has come in for scathing criticisms from several organisations including Transparency Institute, which labelled his actions as corrupt.