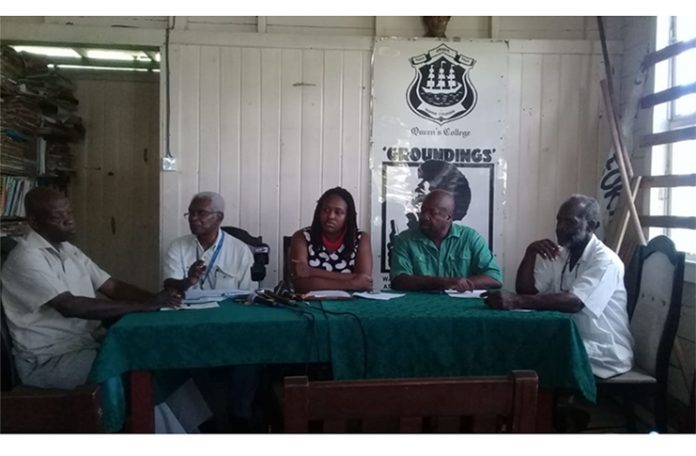 RESPONDING to criticisms that a direct cash transfer to citizens from the oil wealth will negatively impact Guyana's economy, Economist Professor, Clive Thomas called it an insult. He maintained that though there may be exceptions, that does not represent the majority outcome.
"The assumption that people will misspend the money and go to rum shops and have parties and smoke ganja, I think that's an insult to the working people," Dr. Thomas established. "We'll find some people who'll do that but in the generality, most poor people want to get out of poverty and they know best the means in which they can try to do that."
Dr. Thomas made the rebuttal at a press conference of the Working People Alliance (WPA) party, where they endorsed Dr. Thomas' proposal for cash transfers as the party's official stance. The party noted that they will "dedicate their efforts as a party to pursue this programme within the APNU-AFC coalition and among the broad masses of Guyanese people".
Backed by WPA Executive members Dr. David Hinds, Randolph Williams, Tacuma Ogunseye and Tabitha Sarabo, Dr. Thomas maintained that a proposal for cash transfer would be the best route for Guyana. "We have to make people, poor people, ordinary people the centre of our priorities. And it's an insult to say that a teacher, if you give a teacher a cash advance that teacher would go home and throw back. Majority of people in this country are not stupid, and this is about creating opportunities for people," Dr. Hinds noted. Moreover, rather than creating a welfare state, he maintained that it would empower the poor.
"What I'm seeking to do with the proposal is to empower the poor people by giving them cash income that they can work on the schemes and the plans that they themselves have for moving themselves out of poverty, and not rely on the government saying we'll give you this school or this lunch basket," he explained. "We are trying to find a direct means of giving income to the poor and powerless in this country."
Dr. Thomas pointed out that while other schemes such as tax reduction incentives may be well thought plans, they may not necessarily ensure that the benefits trickle down to the poorest of Guyana's citizens. "Most of them do not pay income taxes now, less than half of these persons pay income. So it's no point giving out tax relief, that only benefits those that are in the middle sector or those at the top," he indicated.
"I'm saying we cannot rely on arbitrary indicators, although they may be effective for some systems, those are not sufficient. Because a significant portion of poverty lies among people who are not paying taxes. Look at the Amerindian community, some of them don't even get monetary income."
Dr. Hinds also pointed out that the suggestion of cash transfers is not meant to replace other programmes that could be aimed to help alleviate the burden on Guyana's poor. "We know that the Finance Minister said that we must spend money on schools and so forth we are, of course, in favour of that, but it's not one or the other it's all of them, cash transfers is just a part of it. We are coming at this from a standpoint of humanity," Hinds said.
Dr. Hinds recorded his surprise that the programme has seen much resistance, especially by those who have championed the cause of the poor. "The WPA would like to call the nation's attention to all those who have historically paid lip service to the poor and now when you have a proposal to lift the poor they run searching in every corner to find a reason why you can't," Hinds said.
"Now is a first opportunity that we get to find ways and means to ensure we lift them out of poverty. Our view is that if we solve the problem of poverty it will be a big way in solving a lot of the national problems. Because poverty is holding back countries like Guyana so we feel poverty alleviation must be a priority."
However the party maintained that going forward the decision of how to use the nations looming oil wealth to help the nations citizens should be made following intense discourse with the ordinary people. "What we're trying to emphasize is that we're taking it to the people. We do have plans to go into communities and speak directly to the people and have them understand what it is we are trying to propose and bringing it back to the government with the hopes that they use it," Sarabo said.