guyana times 
August 10, 2018
The Working People's Alliance (WPA) has lashed out at the APNU/AFC coalition Government for not extending its hand for any consultations with the party on critical matters relating to the State's impending oil and gas sector.
During a press conference at WPA Party Headquarters in Queenstown, Georgetown on Thursday, the WPA called on the ruling Administration to establish a Renewable Energy Ministry.
The call for this establishment comes despite the Ministry of the Presidency's assuming responsibility of the petroleum sector from Natural Resources Minister Raphael Trotman in January, 2018.
The WPA, which forms part of the APNU, said Government should establish the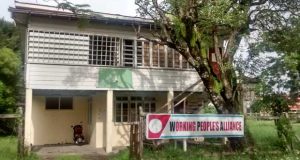 Renewable Energy Ministry to frame the sector's policy and implement actions to improve energy efficiency, reduce costs, and advance non-carbon energy technologies.
That party's calls for openness and transparency are seemingly coming from the wilderness, as described by WPA executive and political analyst Dr. David Hinds, who however is adamant that the party will continue to fight for its voice in the coalition, as it has always believed in power sharing since its 1974 inception.
"The WPA is not a 'yes' partner in the coalition; we are not yes men. Along with the PNC, we worked very hard to bring the APNU into being, and the Coalition (Government) into being. We believe in coalition politics, but we are not prepared to be part of a coalition where we just go along," Dr Hinds asserted.

When the party was further probed, another executive, Tacuma Ogunseye pointed out that the APNU does not have an adequate forum within which its partners can meet for pre-consultations.
Ogunseye said that while the major decisions are made by Cabinet, the parties that constitute the APNU do not have a say beforehand. He said that while this situation has been ongoing for the last two years, nothing has been done to resolve it.
Meanwhile, that party, in a release, said it was the first party to call on Government to publically release the oil contract with US-based oil giant ExxonMobil. WPA highlighted that the current Administration, of which it is part, did not consult with its leaders on the oil and gas industry that it expects to improve the economic prospects of Guyana.
"Although WPA is a member of the governing coalition, and have within our ranks persons with known expertise on the economics of oil and gas, we have never been consulted or briefed on the negotiations," the party pointed out.
The WPA, however, says it's optimistic about the nation's future, despite the inevitable challenges. As of August 1, 2018, Environmental Economist Dr Mark Bynoe was appointed to Head the Department of Energy. ExxonMobil is expected to pump Guyana's first oil by 2020.